Air Freshener - Butterfly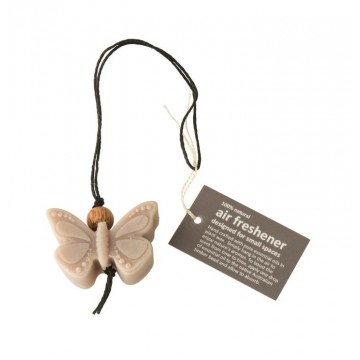 Product Code:
DIN-AirFreshener-Butterfly
Availability:
In Stock
Price: AU$16.00
Ex Tax: AU$16.00
Butterfly Air Freshener
This little wax heart is a vessel for a pure essential oil blend 'clarity'.
Simply hang them in the car or in a small room and enjoy the fresh and addictive scent which includes may chang and patchouli – as always, never any synthetic scents!
Scent can be 'topped up' after a few months, simply by applying a drop of 'clarity' essential oil blend or your favourite essential oil blend to the Australian native timber bead, allow it to absorb, and scent will be potent again!
Vegan friendly, free from palm oil + soy, hung on hemp string with native timber bead.
Dindi Naturals products are handcrafted in Australia using completely natural and environmentally-friendly ingredients. Made in Australia.
Ingredients: castor wax, sunflower wax, coconut oil, rice bran wax, essential oils of may chang, patchouli, frankincense, Spanish sage, rosemary and ylang ylang, Brazilian purple clay
Write a review
Your Name:
Your Review:
Note: HTML is not translated!
Rating:
Bad
Good
Enter the code in the box below: