Australia's Ultimate Bucket List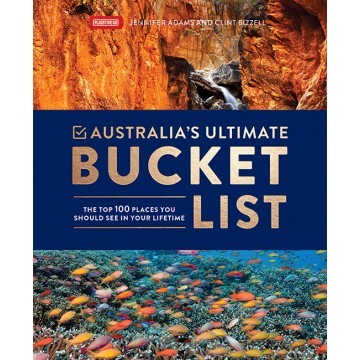 Product Code:
BOOK-AustBucketList
Availability:
In Stock
Price: AU$30.00
Ex Tax: AU$30.00
Australia's Ultimate Bucket List by Jennifer Adams / Clint Bizzell
We all have those bucket list destinations in Australia – the places in our own backyard that we plan to visit one day (before we kick the bucket, of course).
Australia's Ultimate Bucket List is your guide to the most iconic and diverse destinations across this stunning country that you really should see in this lifetime. The 100 destinations featured have been curated by Jennifer Adams and Clint Bizzell from Network Ten's popular travel show Places We Go.
Through Jen and Clint's experience, and with the help of public voting on the Places We Go website, this list covers every state and territory. You'll find famous destinations as well as lesser known places, including the shifting colours of Uluru, the immense desert landscape of the Nullarbor, and the vast marine organism that is our Great Barrier Reef.
Featuring beautiful photography from each location, and with a map of Australia to help you pinpoint each destination, this book is the perfect gift for every Australian.
About the Author
Jennifer Adams has been carving out a career in the Australian media for the past 15 years, from news reporter, to newsreader, documentary filmmaker and traveller. Jen and her partner Clint Bizzell are presenters for the Australian travel show Places We Go, which airs on Network Ten and is currently in its sixth series.
Format: Hardback
Pages: 240
Dimensions: 21cm x 17cm
Write a review
Your Name:
Your Review:
Note: HTML is not translated!
Rating:
Bad
Good
Enter the code in the box below: