Melbourne Then And Now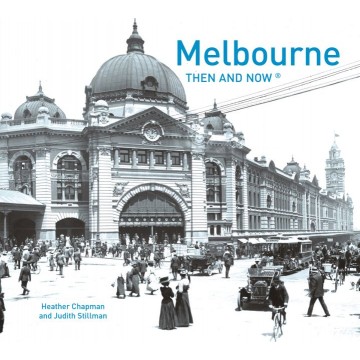 Product Code:
BOOK-MelbThenNow
Availability:
In Stock
Price: AU$22.00
Ex Tax: AU$22.00
Melbourne Then And Now by Heather Chapman
The classic series from Pavilion Books, Melbourne Then and Now showcases vintage pictures of the city and compares them with the views as they look today.
Melbourne has often been considered the most English of Australia's various capital cities, yet it was the only one to be founded by a native-born Australian. In 1835 John Batman sailed from Port Philip and up the Yarra River to establish his new village.
By the 1850s the discovery of gold had led to a rapid expansion and the city now had the financial muscle to build grand institutional structures. Melbourne Then and Now gives a fascinating insight into the development of the city from its Victorian roots through to the twenty-first century city of towering skyscrapers, preserving many of the grand buildings from its days as Australia's most populous and prosperous city.
Sites include: Flinders Street Station, Swanston Street, Princes Bridge Hotel, Melbourne Town Hall, Queens Bridge, Customs House, Grand Hotel, Flinders Lane, Elizabeth Street, Her Majesty's Theatre, The Cyclorama, Treasury Building, Rialto and Olderfleet, Federal Coffee Palace, Bourke Street, Gog and Magog, General Post Office, State Library of Victoria, Houses of Parliament, Duke of Wellington Hotel, Windsor Hotel, Captain Cook's Cottage, Royal Mint, Royal Exhibition Building, City Baths, University of Melbourne, Flemington, Victoria Docks, the MCG, Government House, Station Pier, Albert Park and Luna Park.
About the Author
Heather Chapman and Judith Stillman have lived in Melbourne for most of their adult lives. They travel extensively within Australia and overseas and between them they have worked in the UK, New Guinea and India. They are both qualified teachers and held senior positions at the MacRoberston Girls High School, teaching History, Geography, English and Computer Technology and have previously worked on texts for seconday school students.
Dimensions (cm): 17.0 x 19.5 x 1.1
Format: Paperback
Write a review
Your Name:
Your Review:
Note: HTML is not translated!
Rating:
Bad
Good
Enter the code in the box below: