Family: New vegetable classics to comfort and nourish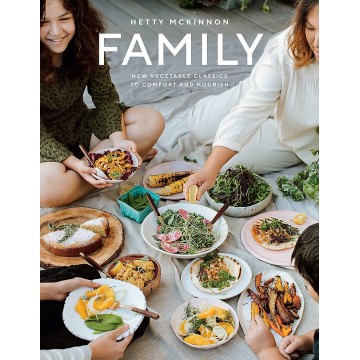 Product Code:
BOOK-Family
Availability:
In Stock
Price: AU$40.00
Ex Tax: AU$40.00
Family: New vegetable classics to comfort and nourish by Hetty McKinnon
Family food isn't fancy or complex. Its roots are humble, stemming from recipes passed on through generations, and food rituals born from daily cooking. Most importantly, great family recipes are ones that nurture our souls, our hearts and our tummies. Family food is comfort food.
In Family, bestselling author Hetty McKinnon shares her approach to uncomplicated, hearty and healthy food that is powered by vegetables. These classic, multicultural dishes are the ones she serves around her own family table. Some are heirloom recipes passed on from her mother, others are old family favourites, and many are variations on much-loved comfort food, repackaged with a healthier outlook. These irresistible recipes are interlaced with tender family stories from around the world.
Family shows you how to build a repertoire of crowd-pleasing, flavour-bursting vegetarian main meals - a modern guide to successfully eating green, together.
Author Information
Hetty McKinnon is a cook and food writer with a passion for vegetables. In 2011, she established Arthur Street Kitchen, a local salad-delivery business run out of her inner-city terrace in Surry Hills, Sydney. In 2015, Hetty, with her family and Arthur Street Kitchen in tow, relocated to Brooklyn, New York City, where she writes about food and runs pop-up food events and workshops out of her Brooklyn-based creative space, Neighborhood Studio.
Dimensions (cm): 27.7 x 22 x 1.9
Format: Paperback
Write a review
Your Name:
Your Review:
Note: HTML is not translated!
Rating:
Bad
Good
Enter the code in the box below: