Cricketers Soap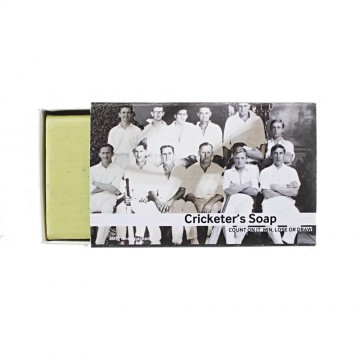 Product Code:
SN-Soap-Cricketers
Availability:
In Stock
Price: AU$14.95
Ex Tax: AU$14.95
Cricketers Soap
Cricketers Soap is a nod to another time... Before ramp shots & switch hits, before back of a length balls & wide yorkers. When fielders ambled in with the bowler & 'Macca', 'Thommo' & 'Browny' were permanent fixtures in every side across the land.
Cricketers Soap is a no-nonsense soap formulated for no-nonsense cricketers. Cricketers that refuse to throw in the towel, ever..., that get right in behind every rising thunderbolt..., that literally bowl their heart out every spell.
After the game, win, lose or draw you can count on Cricketers Soap to get you clean & make you smell great.
Cricketers Soap is guaranteed not to nourish, caress or invigorate you or any of your teammates. For best results apply liberally to head, torso & limbs then rinse thoroughly. Should your skin appear fresh, vibrant & soft desist from further use immediately.
No animals (or cricketers) were harmed in the making of this product.
Made in Melbourne by Sporting Nation.
Ingredients: Sodium Palmate, Sodium Palm Kermelate, Aqua, Fragrance, Sodium Gluconate, Palm Acid, Gycerin, Sodium Chloride, Charcoal Powder (Coconut Husk), No petrochemicals usedin the makingof this product nor other nasties such as Sodium Lauyrl Sulphate, Animal Fats or Proplene Glycol. Made using 100% susstainable palm oils and palm kernal oil.
Size: 200g
Write a review
Your Name:
Your Review:
Note: HTML is not translated!
Rating:
Bad
Good
Enter the code in the box below: